Go back
Berlin / Frankfurt am Main
5 days dedicated to innovative cutting-edge technologies
Press release
|
Fairs & Events
|
ISH 2019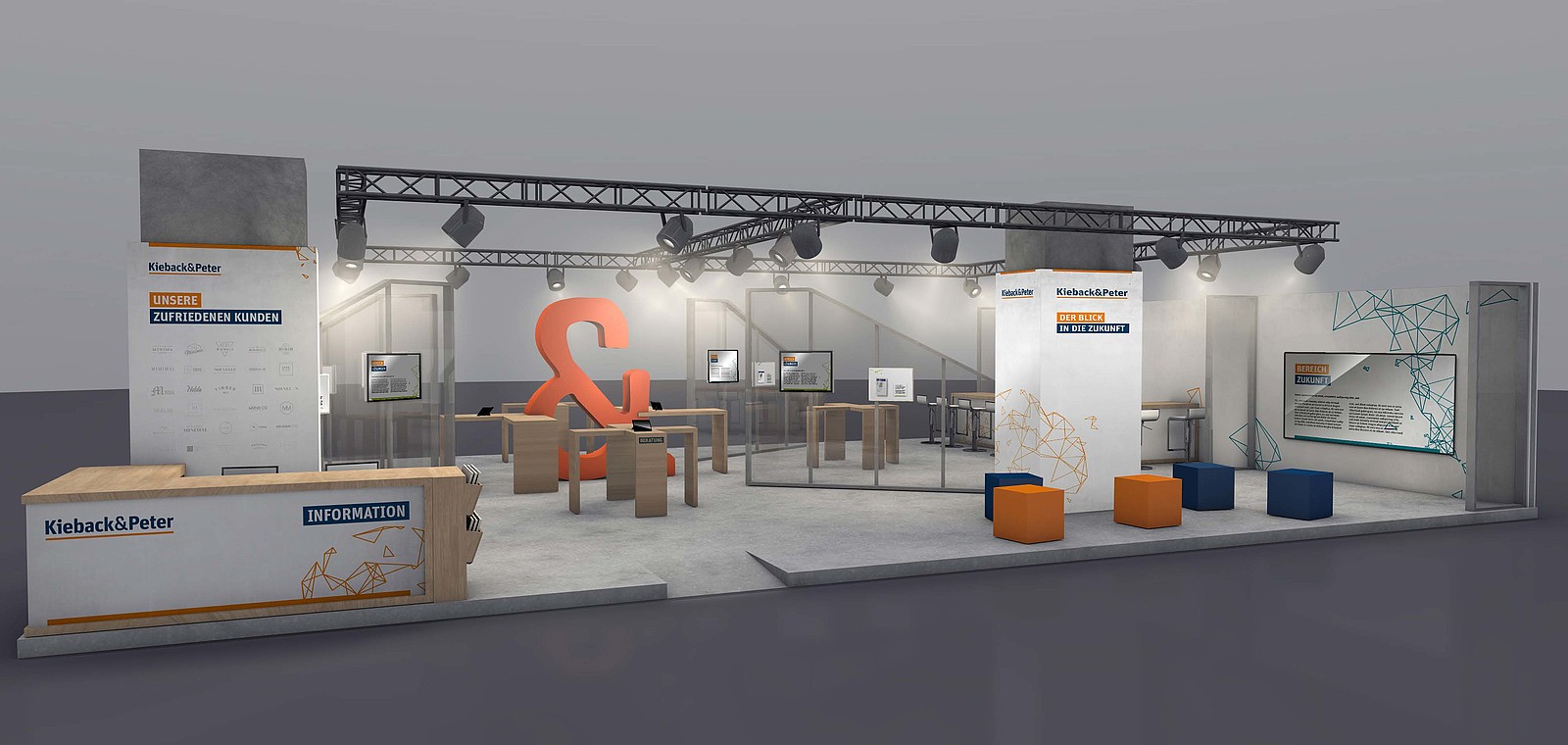 From March 11 to 15, 2019, Kieback&Peter will host an exciting exhibition stretching over 200 square meters at the ISH in Frankfurt/Main: interactive, innovative and striking. Whether it's planning, construction or operation – the automation expert will show trend-setting products and solutions that promise maximum efficiency and highest user comfort for the entire building life cycle.
ISH 2019: A new look for a long-established company
At the ISH, Kieback&Peter is presenting itself for the first time in its new design: a new logo, new colors and new fonts create a contemporary corporate identity that meets the digital challenges with maximum flexibility. Despite a modern new look, the design still reflects the company's roots, the market recognition and the values of the medium-sized family business. The trade show booth reflects exactly that. Analogue and digital design elements combine over 90 years of company history with the best solutions of today.
We look forward to five days dedicated to innovative and state-of-the-art technology. We're eager to meet and connect with customers, friends, and business partners.
A line-up of new and established highlights on more than 200 square meters
Whether software, controllers, actuators or sensors – the modernly designed exhibition area provides a colorful mix of current trends and highlights that the future of smart buildings holds in store. These include Qanteon, our award-winning software for building and energy management, and the DDC4020e and DDC4040e automation stations equipped with an intuitive operating concept. With MD15 and MD50 Modbus, Kieback&Peter is presenting a new innovative product at the ISH: The communicative product range brings intelligence from the automation level to the field level.
At a glance:
ISH 2019: March 11 to 15, 2019 | Messe Frankfurt/Main
Kieback&Peter trade show booth | Hall 10.3 | Booth C55
Expert talk at the VDMA Forum: Björn Brecht | Head of Center of Competence | AI in building automation – Energy efficiency through intelligent algorithms | March 12, 2019 | 15:00 - 15:30
Expert talk at the VDMA Forum: Uwe Asbach | Managing Director Dr. Riedel Automatisierungstechnik GmbH and Riedel Service GmbH | Building automation – a core component of energetic district development in the housing industry | March 15, 2019 | 11:00 - 11:30
Smart building solutions together with Riedel
At the fair, Riedel presents itself as a new member of the Kieback&Peter family. The smart home pioneer will exhibit the apartment manager for energy-efficient living comfort as well as the multifunctional RIEcon building manager.
Shaping the future in the Open Innovation Lab
For the first time Kieback&Peter integrates a think tank at the ISH booth. The Open Innovation Lab creates an inspiring environment and offers space for visions. It's an invitation to all tradeshow visitors to discuss the future of building automation.