HERE FOR YOU
WHENEVER AND WHEREEVER YOU NEED US
We do not just protect and increase the value of buildings and business models – time and again, we also contribute to climate protection. Sustainability is a holistic issue that requires service as well as evolutionary technology. Our customers and their needs are at the core of everything we do. We develop customized and forward-looking solutions for you.
We use cutting-edge communication tools and technology to provide our customers with excellent service. Speed, reliability and professionalism are the crucial factors for efficient operational support and sustainable workflows, even when unexpected problems occur.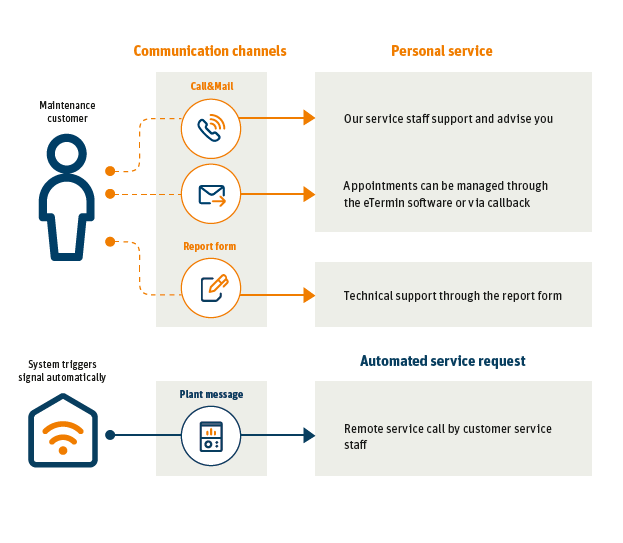 Customer Service at a glance
The perfect addition to a maintenance contract to ensure optimal support for your system
Rapid response time and high availability of qualified and excellently trained staff
Direct expert assistance with questions about the plant, troubleshooting and operation
Reduced costs thanks to efficient preparation for on-site service calls
Quick authorized service thanks to targeted plant messages by e-mail
Reduced service costs (for instance, travel costs due to remote service)
Tailored customer service – your satisfaction is our duty!
We value not just the time and travel savings, but also the excellent support, which never fails to impress.