Play it safe – with service from Kieback&Peter
The most costly part of a building is not the construction but the operation. If you look at the entire building lifecycle, about three quarters of the total costs are spent on the operating phase. Not only rising energy prices and resource-intensive user behavior drive up operating costs. General wear, faults and downtimes can make a serious dent in your finances. Poorly maintained systems also bring risks such as production failures, material damage or personal injury. The same principle applies here as in healthcare: prevention is better than a cure. If you take out a service contract with us, the technicians at Kieback&Peter will keep your systems in top condition. Order an all-round package with on-call service and we'll be there immediately in an emergency. Every day. Round the clock.
Our full service offer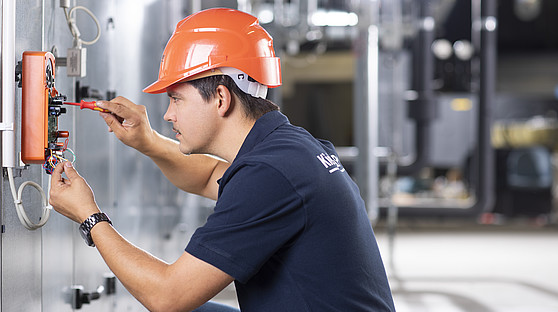 You could just take a quick look at your systems and hope that everything is OK. Or you could do things right: The well-trained Kieback&Peter technicians carry out service and maintenance work to recognized standards such as VDMA 24186-4 and AMEV KG 480. Regular servicing, replacing devices, remote diagnostics or repairs. We have some clear rules and procedures: we work with high-quality measurement and diagnostic tools. We safeguard your data and project planning in advance. And on request, we fully document the entire service process. In this way, we help you to operate your systems efficiently and without faults or downtimes. We are only happy if you can get a good night's sleep.
Service benefits at a glance
The Kieback&Peter service technicians are qualified specialists with professional training in electrical or ICE technology. They bring practical experience from the areas of HVAC, BS and building automation. Moreover, their training is updated continuously in the Kieback&Peter Academy. We usually carry out the maintenance and servicing work once a year – in accordance with customer requirements and service agreements. Our service contracts are based on the industry standard of the German Mechanical Engineering Industry Association (VDMA): services for ICE equipment and building automation systems are set out in the standard sheet VDMA 24184 Part 4. For public clients, the specifications of the "Arbeitskreis Maschinen- und Elektrotechnik staatlicher und kommunaler Verwaltungen" are definitive, in particular worksheet KG 480 Building Automation/Instrumentation and controll engineering systems. We will be happy to arrange individual service packages and service cycles with you.
We always document every service procedure using special software. We provide the documentation to you in printed or digital form. We want to make sure that you're always in the picture about the services Kieback&Peter has provided and when. This creates transparency for everyone involved and is the basis for a partnership based on collaboration and trust.
The basic Kieback&Peter service contract provides support during normal business hours. If required, you can also agree special additional services with your local contact, such as 24/7 on-call service or faster response times. We recommend this premium service, for example, to customers who operate critical infrastructures and have to safeguard against corresponding risks. You can also book useful online services through us - such as remote maintenance or diagnostics.