Demand-based control for ventilation and air conditioning plants (VAC plants)
During extreme outdoor temperatures in summer or winter, air conditioning and ventilation systems must operate at full capacity to ensure a comfortable indoor climate. To provide the maximum air volume required, the fans have to operate with very high energy input.
In average everyday use, however, this volume is not required. By using the en:air solution with dynamic ventilation management, the required air volume can be adjusted to the amount actually needed in the rooms. This increases the efficiency of your plant while reducing your CO₂ emissions and energy costs.
en:air – smart ventilation management
Saves energy
Reduces energy consumption by an average of 30 %.
Improves comfort
Optimal indoor climate with no air stratification or drafts.
Complies with legal requirements
Continuous CO₂ control to fulfill legal hygiene requirements.
Eligible for subsidies
Take advantage of the current BEG subsidy for ventilation systems.
The perfect response to increasing demands at the room and building level
Today, more than ever, building operators are faced with major challenges: steadily increasing demands for cost and energy efficiency, optimization of user comfort, demanding climate targets, and, last but not least, the current debates about using VAC plants that ensure healthy indoor air quality. You can meet all these requirements with en:air, the demand-based smart measurement and control technology from Kieback&Peter for central air conditioning and ventilation systems.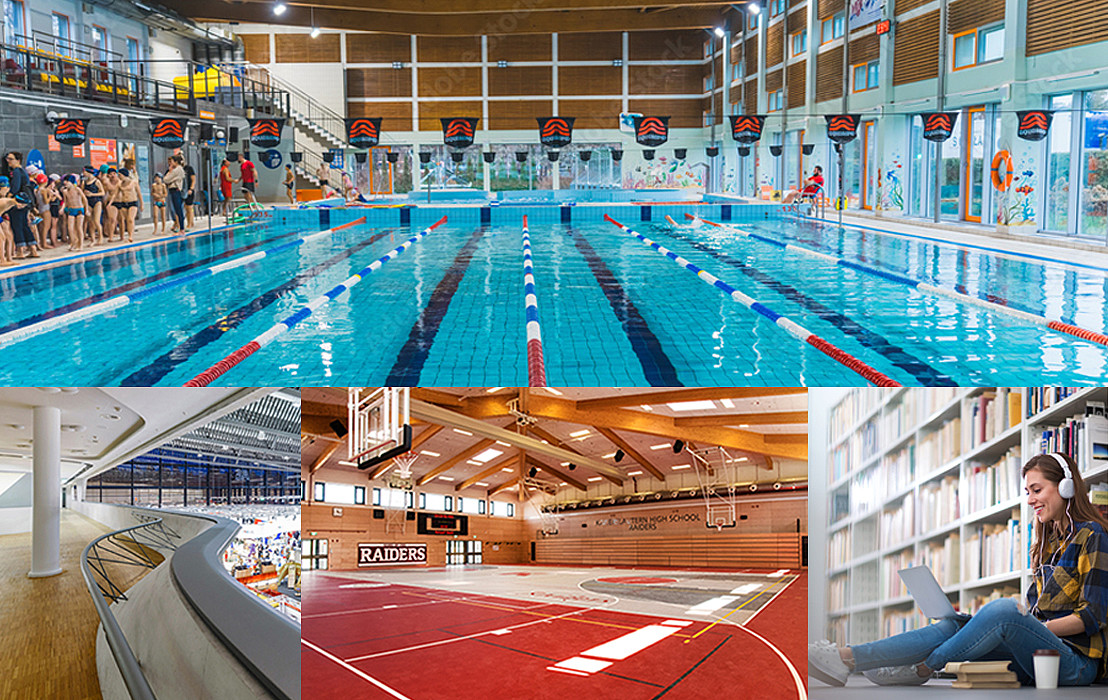 For every requirement
Demand-based ventilation control with en:air – suitable for all ventilation systems that use some proportion of outside air and for almost all building types:
Sports halls
Exhibition halls
Event spaces
Universities
Museums
Swimming pools
Cinemas
And many more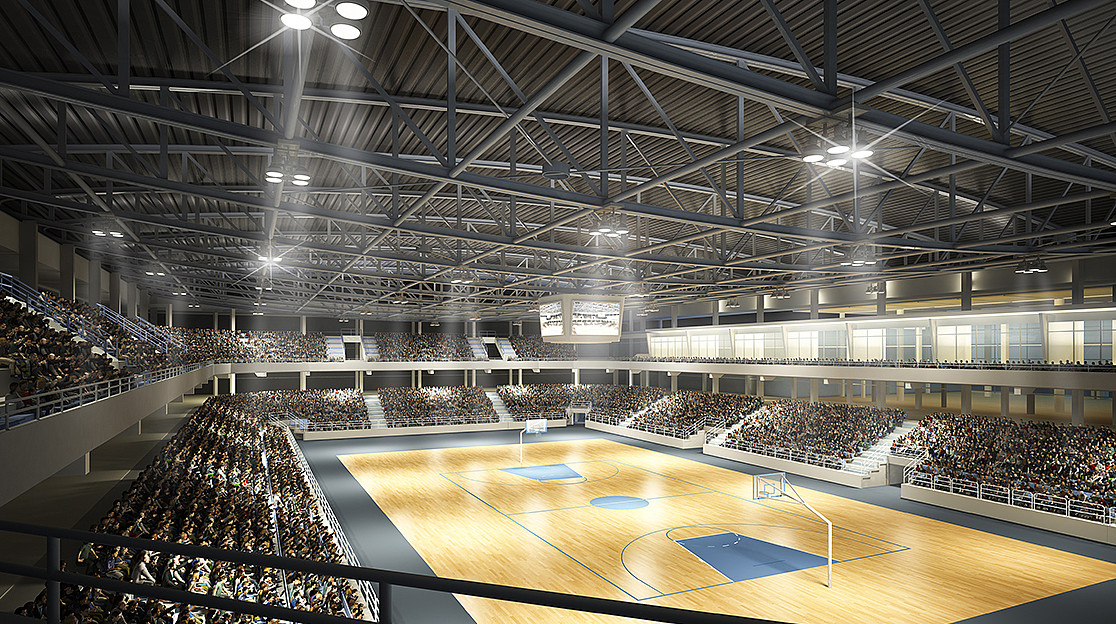 Example: sports hall
The building operator's focus was on optimizing the energy consumption of a ventilation system that had already been in operation for 40 years. By employing the energy-efficient en:air solution, they were able to reduce thermal and electrical energy consumption by around 50 percent, while at the same time improving comfort and significantly reducing CO₂ emissions.
en:air optimizes conventionally controlled VAC plants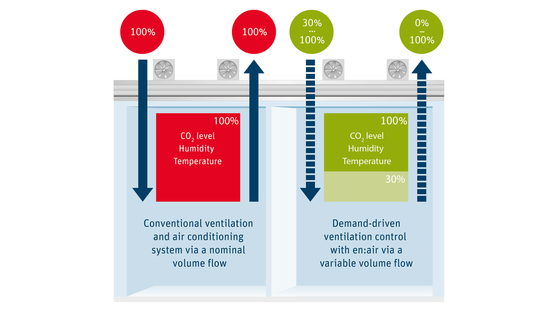 en:air uses fans or volume flow controllers to separately regulate the volume flow rate of supply and exhaust air based on CO₂ content, humidity, temperature and user requirements, all while maintaining balanced air flow in the room.
Optimal ventilation management ensures a comfortable indoor climate:
The solution significantly reduces electrical and thermal energy consumption while ensuring a pleasant indoor climate with uniform temperature distribution and no air stratification.
Benefit from our many years of project experience
Take advantage of our expertise in demand-based ventilation, which we have installed in new and existing buildings worldwide. Your team of K&P experts will provide you with an accurate estimate of the costs you could save by employing en:air in your VAC plant. You can expect average savings of 30 percent, and in many cases even higher.
Our services at a glance:
Analysis of your existing VAC plants to determine your individual potential savings based on your plant and building data
Planning
Installation and commissioning
Remote maintenance by customer request, technical operational management
Three good reasons for demand-based ventilation control with en:air
Reduce energy costs by an average of 30 percent with demand-based supply and exhaust air.
Reduce CO₂ emissions: better for the climate and the environment.
Comfortable indoor climate thanks to optimal mixing of supply and room air: even temperature distribution.
Predictive control MPC 2.0
Optimizing HVAC control by using artificial intelligence (AI)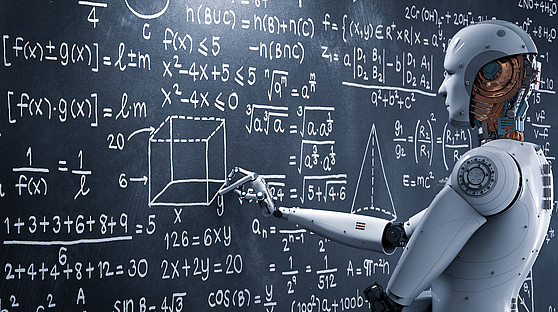 Model Predictive Control (MPC) is a predictive control system based on mathematical models. MPC works with predictive algorithms and appropriate control commands. The MPC programs are based on complex calculation models which also take account of the inertia of buildings and technical systems. As well as real-time values, they work with other factors, e.g. historical system data.
MPC 2.0 from Kieback&Peter goes two steps further in digital evolution: the smart control also uses external data such as visitor and climate forecasts. And it works with artificial intelligence (AI) – the algorithms of MPC 2.0 are continually developing through machine learning. The intelligent controller becomes ever more familiar with user, building and HVAC system behavior. For example, MPC 2.0 learns how slowly individual rooms cool down. With this knowledge, MPC 2.0 lowers the temperature well before the end of the day. The good thing is that users don't notice it because there is enough residual heat to maintain comfort levels. Another example: if the weather forecast is for an unusually warm fall day, MPC 2.0 reduces the feed temperature in the early morning. MPC 2.0 understands the physical and technical interrelationship of all the systems as a whole. The smart control system is thus able not only to optimize efficiency and comfort continuously. It can also manage the peak loads of entire properties in such a way that operators can exploit price advantages on the energy and resource markets.
Service benefits at a glance
You do not have to modernize your entire system or building automation to be able to use our smart service. MPC 2.0 builds on existing systems and can be integrated cost-effectively with little effort.
Before we can optimize your control system with MPC 2.0, we have to compile and analyze your system and consumption data. If you have not yet managed to consolidate your data, this is the perfect opportunity to do so: our solutions create clarity about the status quo of your HVAC systems. Only if we have a clear picture of their condition do we know where to start with optimization. It is important to us that you can see the success of these measures clearly. That's the only way to create acceptance and trust for all concerned.
MPC 2.0 from Kieback&Peter optimizes control of your heating, ventilation and A/C systems. With MPC 2.0, you save about 20 percent of your energy compared to a conventional control system. And users benefit palpably from greater comfort.