Go back
Berlin / Frankfurt am Main
90 YEARS OF PIONEERING WORK IN BUILDING AUTOMATION
Press release
|
Fairs & Events
|
ISH 2017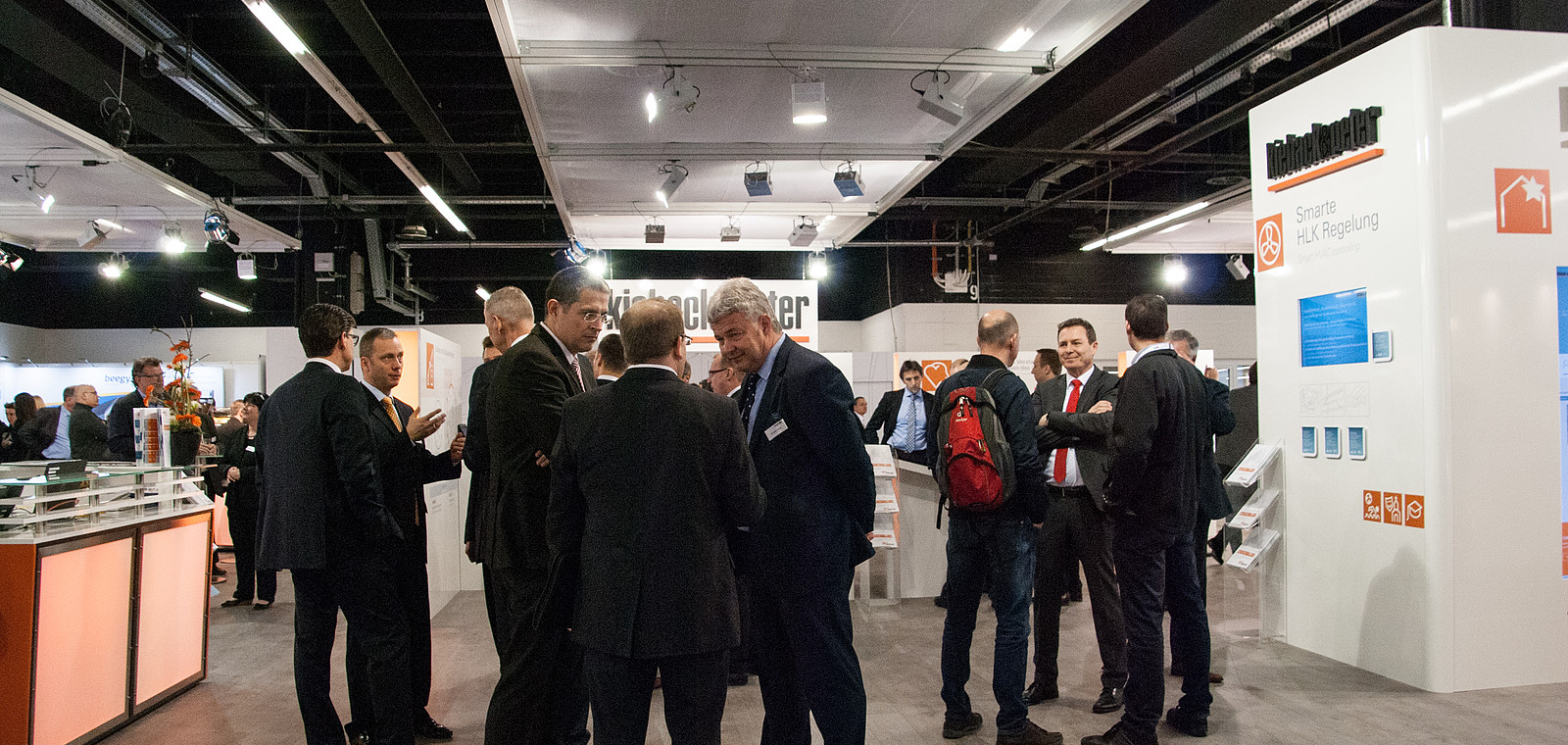 Berlin, January 18, 2017. Occupying a space of over 200 square meters, Kieback&Peter will present their current portfolio at ISH 2017. The leading provider of building automation is celebrating its 90th birthday this year and will offer a glimpse into the evolution of building intelligence at ISH – from the very first controller made in its founding year in 1927 all the way to digital services provided using artificial intelligence.
ISH 2017: Kieback&Peter's Trade Fair Booth
The digitalization offers enormous opportunities and risks – also for building management systems: Smart, networked systems can discernibly improve comfort and efficiency. However, to do this, building data and technology must be safely and effectively implemented. Kieback&Peter accomplish this with customized solutions for every industry and application area. The automation experts will present their most exciting services, products and projects at their ISH booth. Based in Berlin, the medium-sized company is well-known for the quality of its "Made in Germany" products and dedicated customer service.
On the occasion of its 90th birthday, Delf Urban, Head of Marketing at Kieback&Peter, summarizes: "Our founders were considered pioneers for developing electromechanical controllers. Today, we are working on issues of the future such as Big Data, Artificial Intelligence and the Internet of Things." Since it was founded in 1927, Kieback&Peter has developed into an international company with approximately 1,400 employees. Delf Urban attributes the success of the company throughout its history to the motivation of its team: "Top technology alone does not suffice. An outstanding, motivated team is decisive: We pour ourselves into each project so that we can find the best solution together with the customer."
Be it planning, construction or building management: At ISH 2017, Kieback&Peter will demonstrate the services it uses to support customers during the building lifecycle. IT consultants will present their projects in the areas of system integration, migration and virtualization. There is growing demand for their expert knowledge, as a growing number of existing systems must be migrated to a modern IT infrastructure. The topics of energy management and efficiency optimization present another highlight of our service portfolio. Experts will illustrate the challenges and opportunities provided by German Energy Services Act (Energiedienstleistungsgesetz), the Energy Savings Ordinance (Energieeinsparverordnung), ISO 50001 and other standards. They will also provide information on measuring energy-related KPIs and the new digital service "Model Predictive Control 2.0".
Kieback&Peter manufactures its products exclusively in Germany. Our portfolio includes software, controllers, actuators and sensors. The company will present the latest technologies and developments at the ISH 2017 trade fair – including Qanteon, the energy and building management software and winner of the UX Design Award in 2016. Other highlights include the new "DDC4020e" and "DDC4040e" controllers, which add two powerful new automation stations with a new, intuitive operating concept to the DDC4000 product family. Another new feature is the "ECM4000" module: This module makes sure that vital plant data such as malfunction messages will still be transmitted to the management software in case a controller with BACnet BBMD function fails.
In addition, the company's specialist for building automation will demonstrate how products and services for customized solutions are implemented. Using select examples, Kieback&Peter will introduce impressive reference projects from different industries and demonstrate solutions for typical use cases. For instance, the use of smart controls to make heating, ventilation and air conditions systems (HVAC) more efficient and more comfortable will be explained as well as how to retrofit buildings with radio technology in a cost-effective way and safely implement integrated fire protection.
ISH 2017: March 14 to 17, 2017, Messe Frankfurt, Germany
Kieback&Peter trade fair booth: Hall 10 | Level 3 | Booth C 55