Go back
Interview with Carolin Walter – from apprentice to skilled technician
News
|
K&P Insights
|
People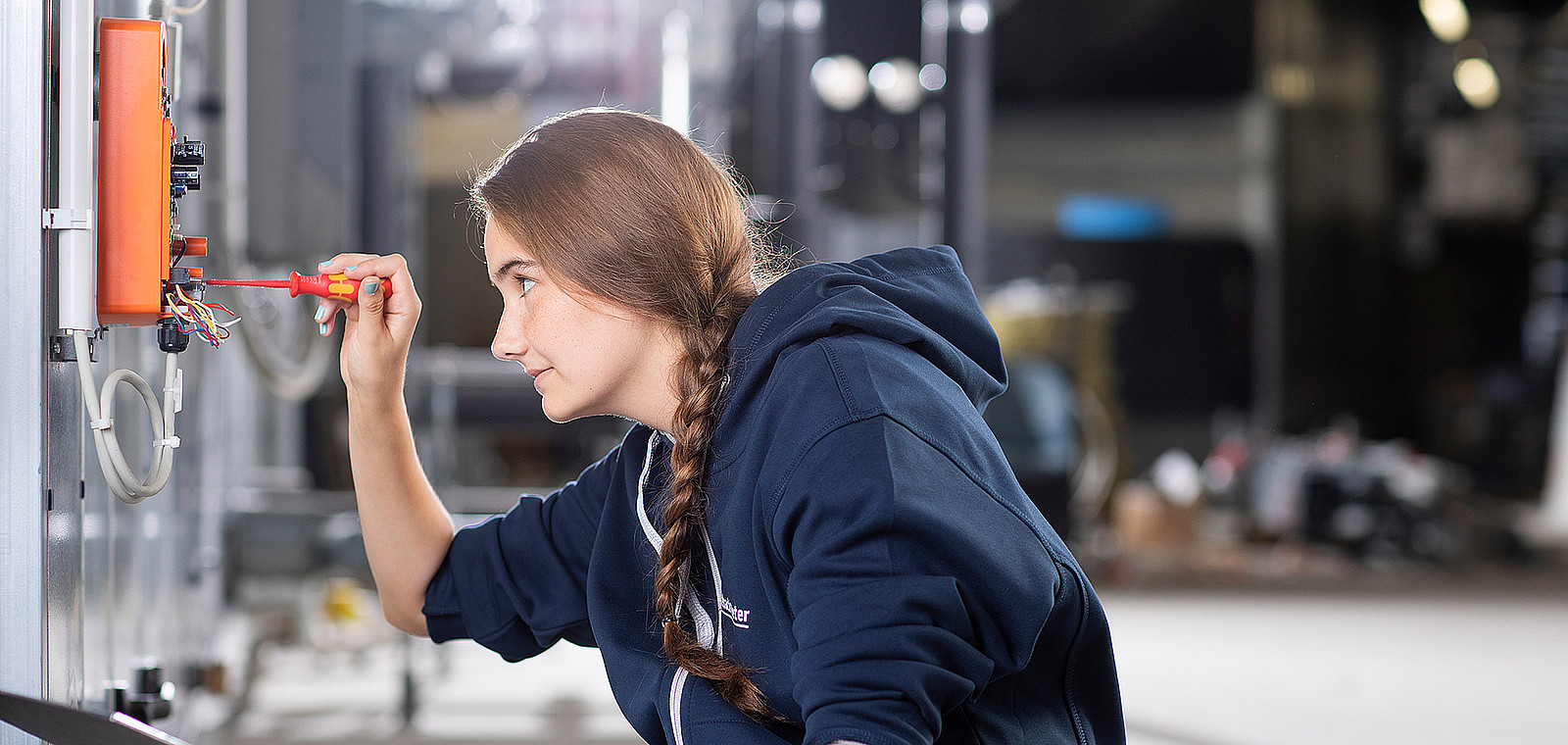 We met up with Carolin Walter, one of our former apprentices, for an interview. Caro successfully completed her apprenticeship as an electronic testing and operational equipment technician back in August 2020.
Hey Caro, what made you decide to start your training with Kieback&Peter?
While we were at school we had a career guidance session. K&P was recommended during this session, and there were plenty of good apprentices who could confirm it. So I sent off a speculative application and was rewarded straight away with an internship place. I felt at home with the Kieback crowd straight away, it's like a family. Both the environment and the working atmosphere are just right for me. Clearly the match was mutual, because the internship then opened the door to beginning a career. What I also liked was the scale-based pay, which was pretty good for an apprentice. This gave me the foundation for quickly becoming independent and setting up a life of my own. I'm more than happy!
How did you make your application with us?
Completely untypically for a young adult, to be honest... I sent my application in the old-fashioned way, by mail. The application interview with the training officer that followed was an initial spark for me. I knew I wanted to become a technician. But there were no more places available. Then Ms Krüger convinced me that my aptitude might be suitable for the electronics technician apprenticeship. This direct, honest feedback helped me to find the right way for me. And I took this to mean that even if nothing suitable seems to be available at first, you should go on trying your luck.
What was a typical day like during your apprenticeship?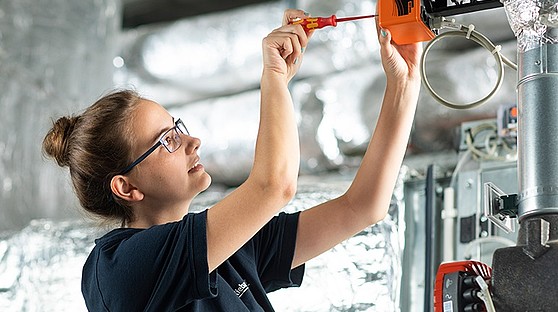 I was and am still responsible for planning and stocking the training racks and for providing and managing trade fair material. I am also responsible for test equipment technicians, in particular with the monitoring of test and measurement equipment. All in all, my job is varied and exciting. I like it a lot. I've been very lucky because I'm still able to work with the person who became my mentor. He gives me the freedoms I need to grow into my tasks and to develop my skills. He also provides support when I need help. This has allowed me to feel right from the start that I'm not just an apprentice but more like a permanent, fully-integrated employee who can interact with the others on an equal basis.
What have you enjoyed in particular?
The year and a half at the ABB training center for theoretical training combined with the everyday practical situation at Kieback was interesting and always enjoyable. It was great to be involved periodically in new projects and to be given a range of different tasks. This gave me a high level of freedom to act and to take decisions. And it's stayed so ever since. I also liked the cooperation and exchange with the other apprentices and with the rest of the company.
What tips would you give to new apprentices?
It's as simple as it is effective: just keep asking! You can learn an enormous amount from older Kiebackers that helps you avoid one or another bad experience. Since communication paths can be long sometimes, good contacts help to speed things up. I can only recommend that you stay polite and friendly at all times. :-)
Can you tell us anything about your personal life?
Sure thing! At home I'm a passionate gamer. Whether it's League of Legends, the Sims or Mario Party, video games make my heart beat faster – just like my job.
Thank you, Caro, for your interesting and personal insights. We wish you every success in your further career development with us, and fun above all!