Go back
GERMAN DESIGN AWARD 2018 FOR QANTEON
Press release
|
Awards
|
German Design Award 2018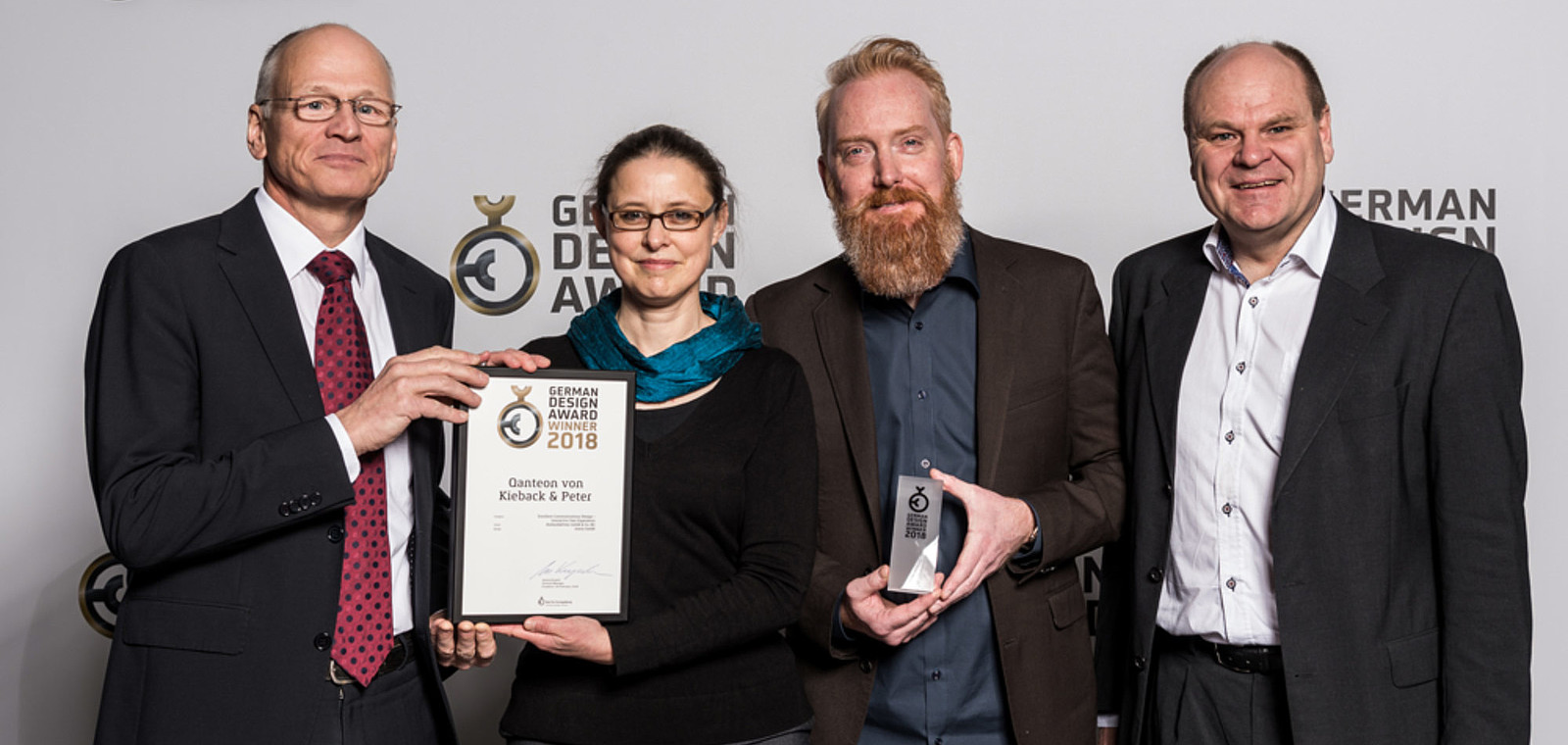 Berlin/Frankfurt am Main, Germany, February 13, 2018. Qanteon – the building and energy management software by Kieback&Peter – has been honored with the German Design Award 2018. The German Design Council presented the award at the opening of the "Ambiente" trade fair in Frankfurt. The award is one of the most renowned design prizes in the world. It honors groundbreaking products and projects in the international design landscape.
Software by Kieback&Peter awarded for the second time
Qanteon prevailed over strong competition in the "Excellent Communications Design, Interactive User Experience" category. For the first time ever, more than 5000 products and projects from 56 countries were submitted in the fields of product and communication design. Qanteon stood out from this multitude with its unique user interface. The jury of international design experts explained its decision as follows: "The clearly and intuitively designed interface not only provides a quick status overview and allows for simple plant control, but also enables more energy-efficient and resource-saving operation." Qanteon also previously received the UX Design Award in 2016. Benno Reetz, the responsible product manager at Kieback&Peter, feels a sense of validation from the second award: "With Qanteon, we have combined building and energy management in one smart system. We didn't just want to make an efficient tool for energy and facility managers. We really wanted them to have fun with Qanteon! We obviously succeeded."
Successful collaboration with UX designers
The designers at macio GmbH created the software front end based on the specifications and ideas provided by Kieback&Peter. These User Experience (UX) experts therefore played a major role in the success of Qanteon. They submitted the jointly developed software to the German Design Award. Hinnerk Mahnken, project manager at macio, is delighted: "For us as designers, it's something really special to be honored by such a high-quality jury."
Experience Qanteon at Light + Building
The multiple-award-winning Qanteon software is also one of the highlights that Kieback&Peter will be showcasing at the world's leading trade fair for light and building technology. Messe Frankfurt is open to visitors of the "Light + Building 2018" trade fair from March 18 to 23, 2018. Kieback&Peter's trade fair booth is located at the "Open Building Automation" marketplace in hall 9.1. Another highlight is a talk by Celil Genç, head of the Smart Building Technologies department: He will be presenting practice-oriented building digitization and virtualization solutions.
Light + Building 2018: March 18 to 23, 2018, Messe Frankfurt/Main, Germany
Kieback&Peter trade fair booth: Hall 9.1, booth D 66
Talk by Celil Genç: March 20, 2018, 12:00 noon