Go back
Berlin / Frankfurt am Main
INTELLIGENT SOLUTIONS FOR MORE EFFICIENT BUILDINGS
Press release
|
Fairs & Events
|
Light & Building 2018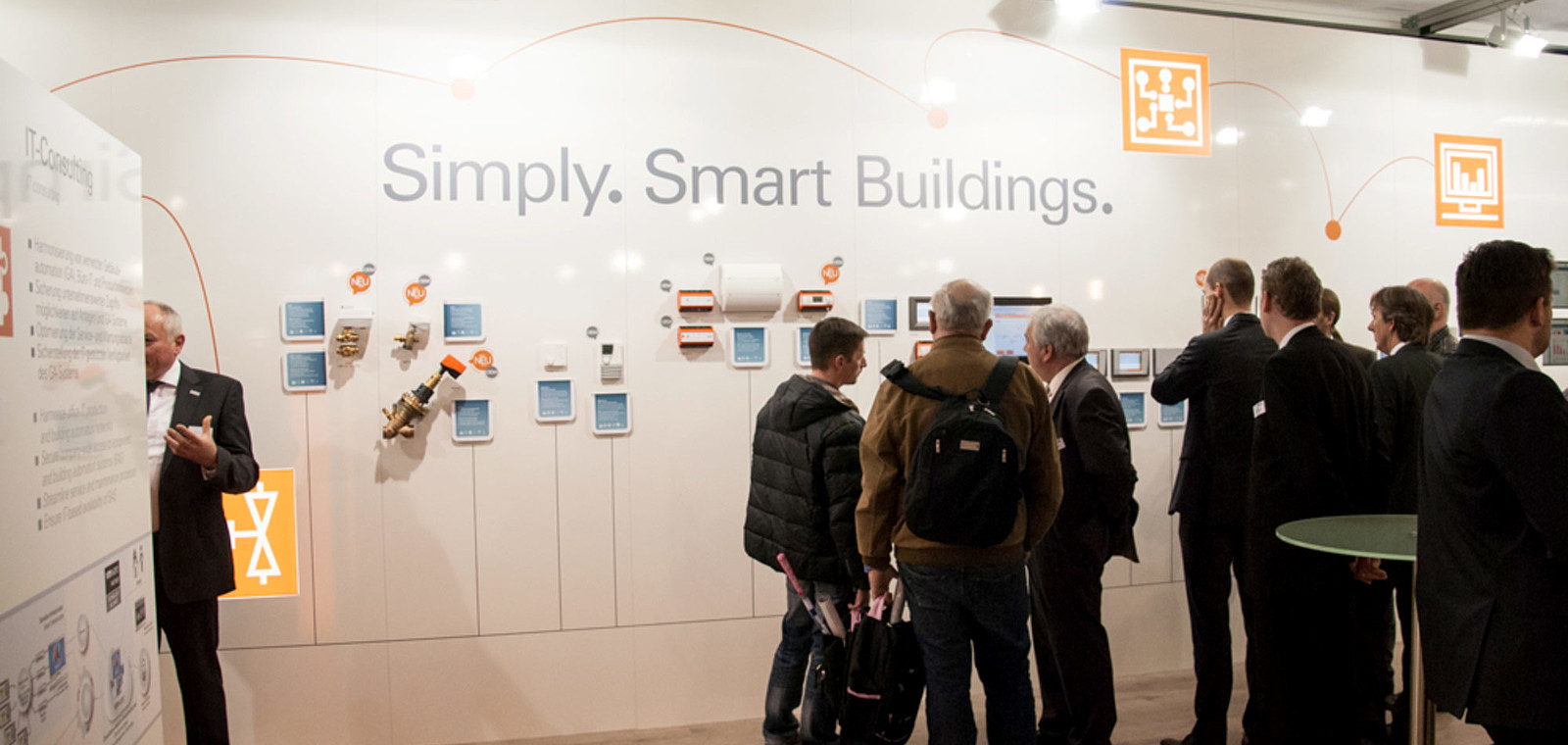 Berlin, January 24, 2018. Kieback&Peter presents smart answers to current questions on building efficiency and digitization at Light + Building 2018. Among other things, the leading provider of building automation will show ways of implementing the requirements of the new Energy Performance of Buildings Directive (EPBD) on a technology level. The revised EU directive will presumably be adopted in the spring of 2018. In terms of building efficiency, it relies primarily on smart, interconnected systems. A "smartness indicator" will measure how smart buildings truly are. In addition to concrete solutions on that topic, the Berlin-based family-owned business will also present its product highlights – including its award-winning management software Qanteon. The fair will coincide with Qanteon's German Design Award 2018.
Light + Building 2018: Kieback&Peter's Trade Fair Booth
All products and services by Kieback&Peter aim to interconnect building management technology in intelligent ways and thus maximize safety, comfort and energy efficiency. The automation experts' high-tech solutions provide the tools that planners and operators need to implement the EU directives for smart, efficient buildings in meaningful ways. Product managers and sales engineers will share their expert knowledge on building automation, system integration and digitization at Kieback&Peter's trade fair booth. In personal talks with customers, they will explain how solutions by Kieback&Peter provide measurable benefits for investors, operators and users in individual scenarios.
Expert presentation on building virtualization
Messe Frankfurt is open to visitors of the Light + Building trade fair from March 18 to March 23, 2018. Kieback&Peter's trade fair booth is located at the marketplace "Open Building Automation" in hall 9.1. The highlights will include a presentation by Celil Genç, head of the Smart Building Technologies department: His presentation on practice-oriented building digitization and virtualization solutions will start on March 20 at 12:00 noon.
Kieback&Peter will present their most recent new developments as well as product evolutions with multiple product highlights. In the room automation section, one such highlight is a self-learning room control system with integrated humidity sensor. Innovations for classic products, such as the DDC4000 automation stations, will also be featured at the trade fair booth: the DDC4020e and DDC4040e controllers with a new, intuitive operating concept.
Qanteon awarded its second Design Award
Kieback&Peter introduces its most recent award winner in the energy and building management sector: Qanteon was the very first software solution on the market to combine building management system and energy management in one comprehensive system. For that feat, it received the UX Design Award 2016. Now, its second award will coincide with the trade fair: Qanteon will be awarded the German Design Award 2018 in February. Trade fair visitors can see for themselves what makes Qanteon so special – at Kieback&Peter's trade fair booth.
Light + Building 2018: March 18 to 23, 2018, Messe Frankfurt/Main, Germany
Kieback&Peter trade fair booth: Hall 9.1, booth D 66
Talk by Celil Genç: March 20, 2018, 12:00 noon