Go back
Local Override (LVB) wins UX Design Award
Awards
|
Products
|
Controller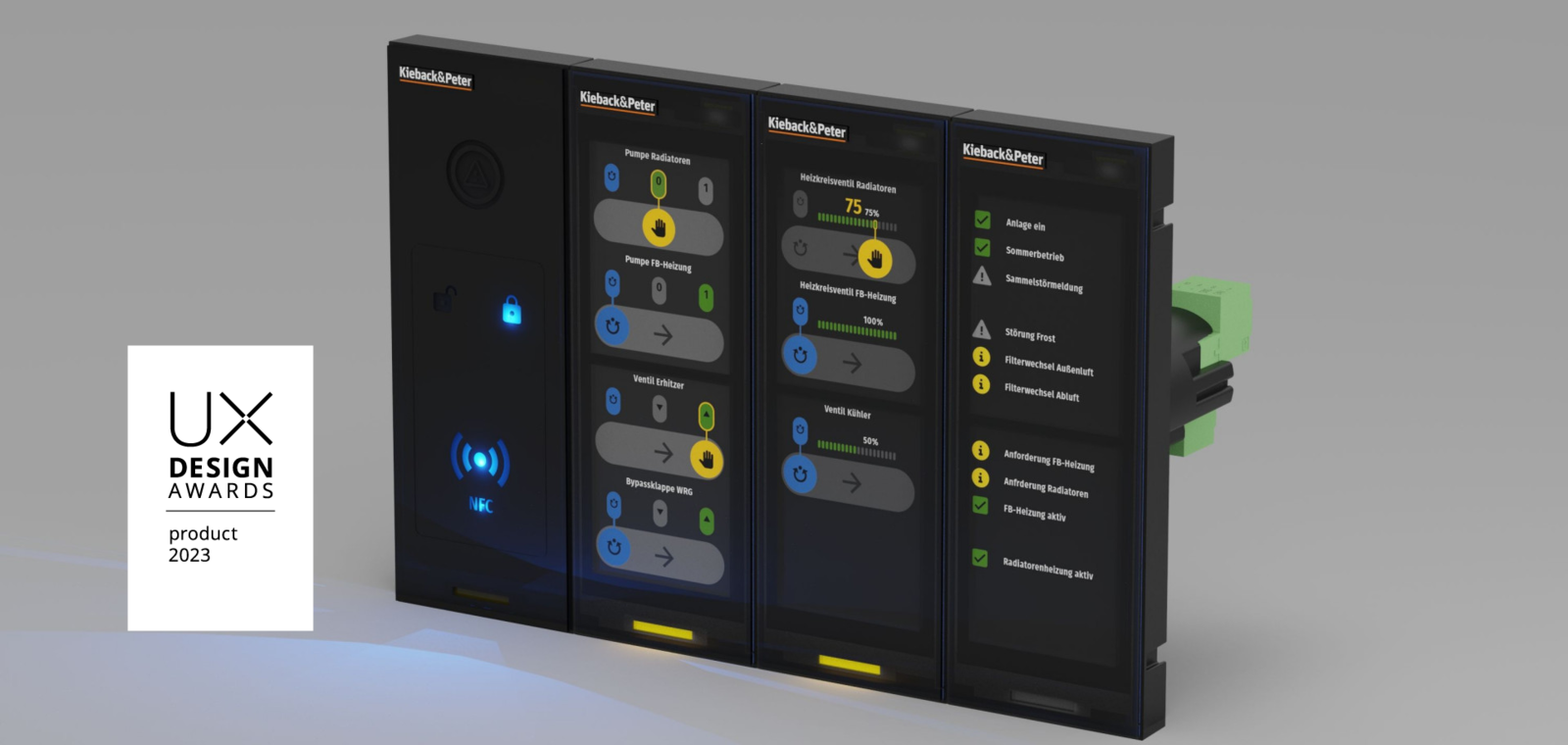 Our Local Override (LVB) combines smart functionality and state-of-the-art product design. For this, the jury of the UX Design Awards now awarded us in the category "Product 2023". Among other things, the innovative solution impressed with its particular user-friendliness and digital configurability.
Building automation with style
Control of Local Override (LVB) via rotary control and buttons? This is a thing of the past thanks to Kieback&Peter's unique operating modules: Fans, heating coils or pumps can be controlled easily and self-explanatory with the LVB via touch display. The International Design Center Berlin (IDZ) was also impressed by this high degree of user-friendliness and has now honored Kieback&Peter's LVB with the UX Design Award. The jury is awarding points in the categories of relevance, empowerment, innovation, outcome and business value, holistic thinking and user-centered approach, as well as design and quality of experience. The LVB system is a classic element of critical infrastructure objects. These controls allow users to manually override the central building automation system as needed.
Always in control: please, intuitively!
"Receiving the UX Design Award makes us very proud. It shows that fully thought-out technology that focuses on the user in everyday practice is winning through," says Enrico Jagoschinski, Product Manager at Kieback&Peter. "LVB makes smart building technology more efficient and safer." The globally unique touch display technology does not require any mechanical operating elements. Thanks to the dimming function, the control module is particularly energy-saving. It displays all functions and system states visually and self-explanatory. This makes it intuitive and easy to use: In addition, the solution meets all legal requirements, such as DIN EN ISO 16484 Part 2/ VDI3814.
Consistently practical
Well thought-out product design relies on consistent user-friendliness and practical orientation – these aspects begin with mounting and do not stop with commissioning. Push-in terminals ensure easy wiring. Thanks to the hot-plug capability of the associated input/output modules, devices can also be maintained and replaced without interrupting system operation. Even without a separate cover, the touch modules meet the requirements of protection rating IP54 (dust/splash protection). Labeling and engraving are not required: The assignment can be defined during the initial configuration and is then permanently visible. Functions are defined quickly and easily via software: Settings on the device are not required. "The LVB solution is not only smart and convincing in its design, it also makes an important contribution to sustainable building operation. Among other things, the LVB is contributing to the technical optimization within our CO₂ reduction roadmap," explains Enrico Jagoschinski, product manager at Kieback&Peter. "The award-winning LVB solution is an important step on our mission to make buildings smarter and more sustainable," says Managing Director Dipl.-Kfm. Christoph Paul Ritzkat.