Go back
With a pioneering touch: the new Local Override
Products
|
Building efficiency
|
News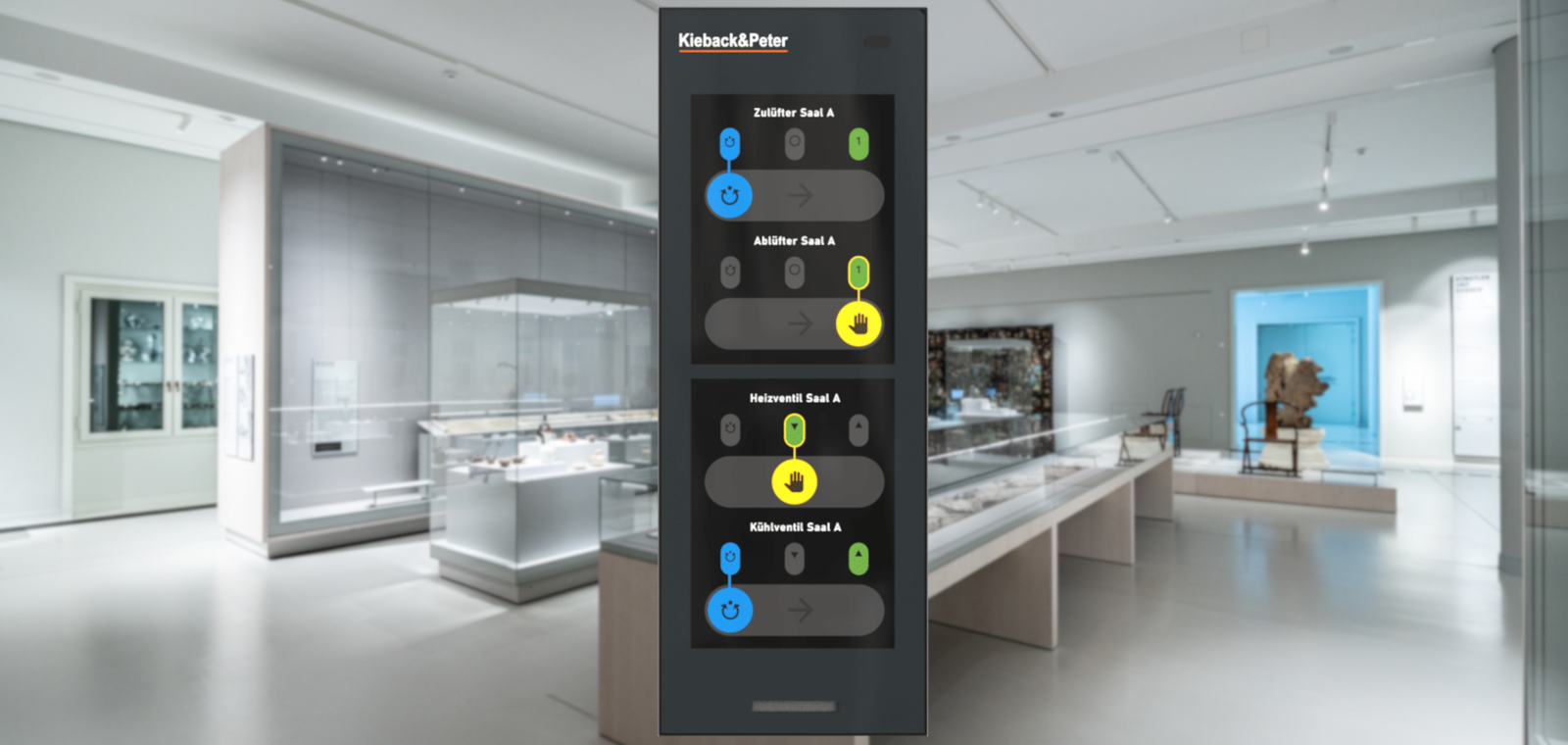 Smart and stylish like no other – the new Local Override with touchscreen control from Kieback&Peter is here. The unique and innovative system solution wins over customers with its self-explanatory design, especially easy installation, comprehensive digital configurability, and safe operation.
Operational safety can be stylish
Smart building automation by Kieback&Peter maximizes the energy efficiency, comfort, and safety of modern buildings. The principle applies that all systems have to run seamlessly – especially in parts of critical infrastructure such as hospitals, public utilities, and schools. The Local Override is there to ensure that the hardware can do its job even during maintenance or possible disruptions: operating controls for connected systems such as ventilation, heating or solar protection in close proximity. By overriding the central building automation, these can be used to manually control, e.g., fans, heating registers, or blinds as needed. Up to now, conventional modules have been operated using control dials and buttons. In contrast, the new and unparalleled control modules (FSM) by Kieback&Peter are safe, easy, and self-explanatory to use via touch display.
As user-friendly as a smartphone
As a system solution, the new Local Override by Kieback&Peter ensures the safe operation of buildings and fulfills all legal requirements like DIN EN ISO 16484 Part 2 / VDI 3814. The operating module scores a further win with its touch display technology with an energy-saving dimming feature unique to the market. For manual operation, the modules clearly visualize all relevant system statuses. All functions and data are presented in such a self-explanatory way that the system can also be operated by electrotechnical laypersons if needed thanks to the carefully conceptualized screen designs. Moreover, it does not have mechanical components such as switches or potentiometers.
Cost saving – not just during installation
The touch modules of the new operating module are based on common hardware and can be expeditiously mounted directly to the control cabinet door without an installation frame. Only a punched round hole is required for installation. Compared to conventional modules, it does not require a separate dust cover – the touch displays fulfill the IP54 requirements (protection against dust and water splashes). To clearly assign the controls, it is not necessary to separately label or engrave them; the respective information is simply programmed during the initial configuration and is then permanently visible.
Easily select functions using software
The new generation of the Local Override by Kieback&Peter simplifies a lot – even the configuration. For commissioning, software can be used to assign the operating modules with the preferred functions. All the different functions and the user interface connected with them are configured in the Planning System 4000 and are tailored precisely to the respective need in just a few steps. No adjustments to the device itself (hardware) are necessary.
Efficient and flexible for safely operating systems
In terms of economic practicality, Kieback&Peter has designed the input/output modules of the Local Override for easy mounting on a standard rail in the control cabinet or remotely in an insulated housing. The installation and commissioning thus require little effort – also due to practical push-in terminals for the wiring. And there's another practical advantage: The devices support hot plugging; maintenance and replacement are possible without interrupting the system operations. Everyone benefits from this device concept: control cabinet builders, service/commissioning technicians, and operators. Not to mention the stylish design of the operating modules.