Rotary actuator with 6-way ball valve
DS5 + CBV: efficient duo for combined heating and cooling systems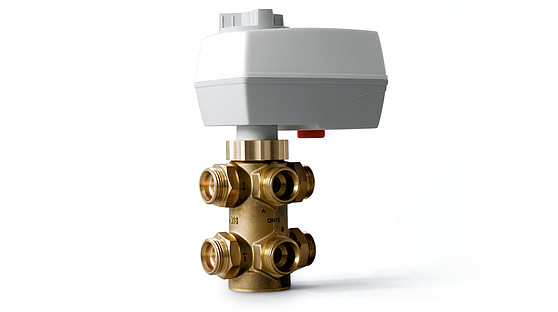 Many rooms are no longer heated and cooled by two separate systems, but by an integrated heating and cooling ceiling, for example. Kieback&Peter has the perfect combination for this purpose: the DS5 rotary actuator with the CBV 6-way ball valve. This allows you to combine heating and cooling systems with minimal space, material and work requirements. The practical duo replaces four conventional control fittings. They regulate the flow of heating and cooling media precisely – even with a very small Kvs value (fluid flow rate). As you would expect of German quality products from Kieback&Peter, the set is maintenance-free. After quick installation, it provides continuously efficient system operation – provided hydraulic balancing has been completed during installation.
Fitters will certainly like these features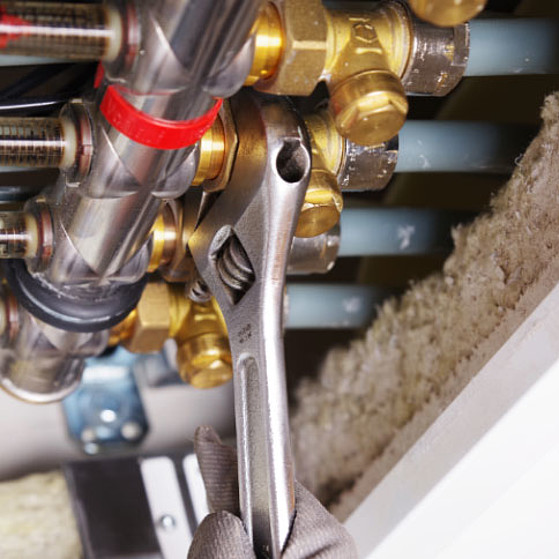 For installation of control fittings, too: time is money. For combined heating and cooling systems, installing conventional fittings involves a lot of work. The installer has to connect four conventional valves and drives for the feed and return. A 6-way valve with actuator can be installed much faster. The smart product combination from Kieback&Peter has even more installation-friendly details. For example: the drive automatically detects the end position of the valve when the operating voltage is switched on and initializes itself.
3 good reasons for the smart duo: DS5 + CBV
Four conventional valves plus four actuators usually cost more than one 6-way valve with actuator. The installation time is also reduced with Kieback&Peter's solution: first, there are fewer parts to fit. Second, a control cable is already connected to the actuator. The bottom line is that the durable combination saves developers and operators money.
The standards ISO 20653 and DIN EN 60529 apply to International Protection (IP). They define which electrical equipment is suitable for which environmental conditions. The DS5 actuator from Kieback&Peter meets protection class IP 54. Thus, it is protected against any contact, large amounts of dust and spray water on all sides. This allows use in a wide range of operating environments, including outdoors.
Kieback&Peter's set comes with Kvs diaphragms. The specialists on site can carry out hydraulic balancing with these: the Kvs diaphragms are used to adapt the flow rate through the valves precisely to the individual needs of the connected consumers. The heating and cooling devices in the room thus receive only as much hot or cold water as they really need. Correct hydraulic balancing can save up to 15 percent of your energy.