What is building automation?
Building automation (BA) is the automatic control, regulation, monitoring and optimization of technical building equipment. BA integrates heating, cooling, ventilation, air conditioning, lighting, shading and other building services into a smart holistic system. The aim of BA is the efficient, safe and comfortable building operation. The BA sector focuses on business and public non-residential buildings such as hospitals, airports, shopping malls, office and administrative buildings. An optimally interconnected building is known as a smart building. For automation solutions in private homes the term Smart Home has become established.
Why building automation?
Building automation (BA) should benefit all stakeholders – especially investors, operators and users of buildings. BA pursues three main goals:
BA shall optimize the efficiency of the building – especially reduce resource consumption and operating costs.
BA shall increase safety for people and equipment in the building.
BA shall increase the comfort in the building to make users and operators feel well in everyday life.
For investors, it pays to invest in BA. It only accounts for 1-2 % of the construction costs of a new building. The small additional expense usually returns after a few years. This is because the BA has great saving potential during running operation. Furthermore, smart sustainable buildings with certifications such as DGNB, LEED or BREEAM are in high demand on the real estate market. They offer high value stability even in times of crisis.
How much energy does building automation save?
A fully automated office building (automation class A) saves 30 % heating energy and 13 % electricity compared to a less automated reference building (automation class C). These values are taken from the EN 15232 and DIN V 18599-11 standards. The Biberach University of Applied Sciences even came up with energy savings of 49 % in a two-year practical study. However, these are only rough benchmarks – the savings vary depending on the project and the building: BA is a cross-sectional technology that interconnects all energy-intensive systems in the building. Because there are so many systems involved, there are numerous levers. In addition, there are the building physics and the behavior of people, which have a significant influence on energy and resource consumption.
How does building automation work?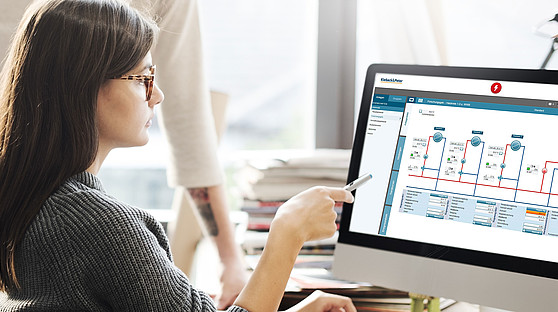 A central element of building automation (BA) are the building controls. This usually means hardware that is installed discreetly in the building – for example sensors, actuators, controllers, switch cabinets, radio and cable networks. Software also plays an increasingly important role in BA. It takes over superordinate, more complex tasks in the field of energy and building management. Within the industry, technical terms such as building management systems (BMS) or computer-aided facility management (CAFM) are common.
Field level
Sensors
Sensors are the senses of building automation. They measure the actual status in the field, which means in a technical plant (e.g. air handling unit - AHU), in a room or in another environment. The sensors transmit their data – for example the flow temperature of the heating system or the CO2 concentration in the room – via radio or cable to the controller.
Actuators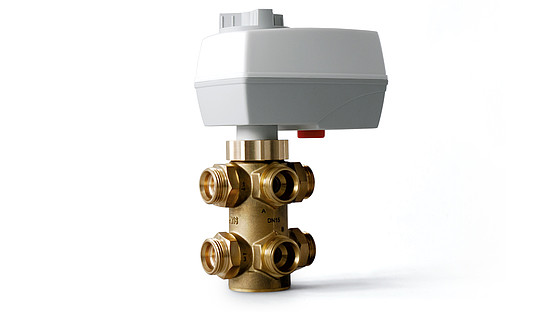 Actuators are the hands of building automation. They usually perform mechanical work and can be driven electrically, pneumatically or hydraulically. For example, they open a damper, a tap or a valve to change the mass flow (heating water, fresh air, etc.). Actuators usually work when they receive a command from the controller. However, more modern actuators can also be equipped with intelligence and can perform some of the control functions independently.
Automation level
Controllers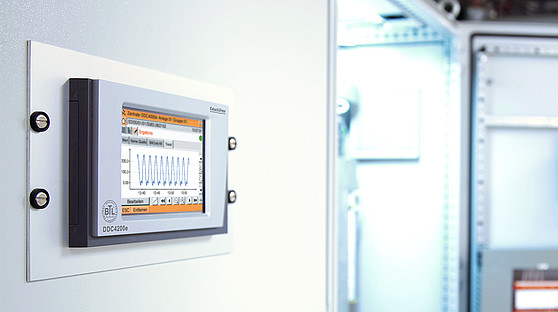 Controllers maintain the vital functions of building technology in everyday life. Simple or more complex control programs run on these small computers - also known as Direct Digital Control (DDC). A primitive control system works something like this: The controller records the actual measured values of the sensors and constantly compares them with the specified target values. If it detects a significant deviation between setpoint and actual values, it reacts as programmed. Example: If the controller detects that a room is only heated to 16 °C instead of the setpoint value 21 °C, it gives a command to the actuator on the radiator: Open valve further, increase heat flow.
Management level
Software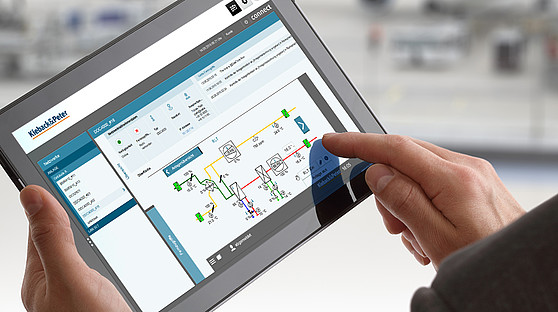 Software takes over higher-level management tasks within building automation. It can merge, document, evaluate and clearly visualize large amounts of data from different areas. With integrated software for energy and building management, users can not only permanently monitor the entire smart building and intervene if necessary. They can also continuously improve energy consumption and operational safety. If the software is connected to other systems and uses machine learning or other forms of artificial intelligence (AI), it can optimize itself and the whole building automation system.
About Kieback&Peter
Kieback&Peter GmbH & Co. KG was founded in 1927 in Berlin. With over 1,500 employees and 50 locations worldwide, the family-owned company is one of the leading providers of building automation. Using software and hardware, the experts integrate building technology such as heating, ventilation, air conditioning and fire protection into one optimized system. The medium-sized company ensures more comfort, efficiency and safety in buildings – through simple, smart solutions.