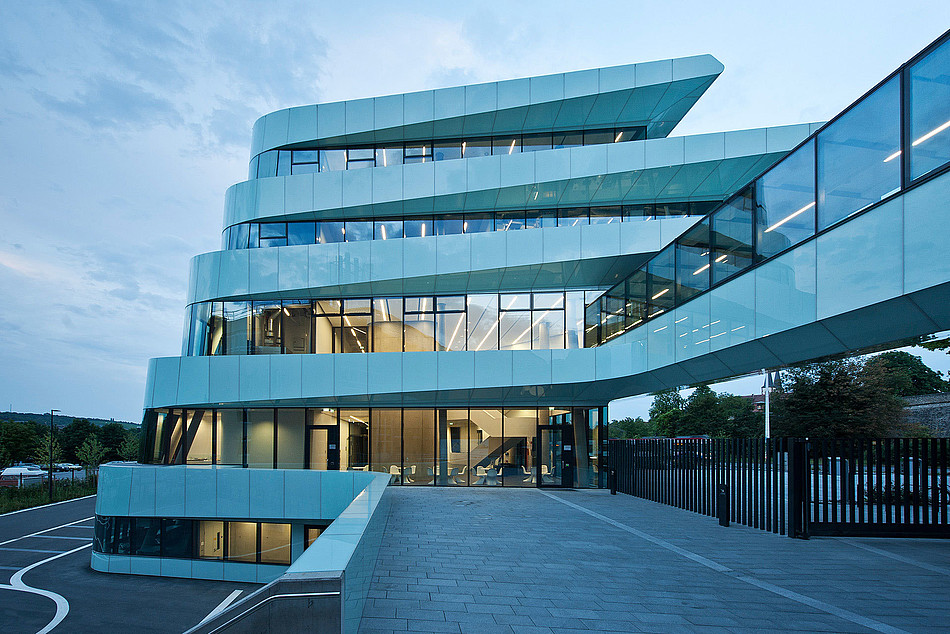 Futuristic, high-tech, symbolic – the "Technikum III" at the Fraunhofer Institute for Silicate Research (ISC) in Würzburg, designed by Zaha Hadid, captivates at first sight. And beyond. The building is very special, not only on the outside, but also on the inside. Its roughly 2,500 square meters of floor space accommodate one of the world's leading material research institutes. Some 350 scientists and technicians develop technologies for the future here – surface coatings, regenerative medicine, diagnostics, and batteries. Kieback&Peter equipped this extraordinary building with automation systems for heating, ventilation and air conditioning – an exciting and challenging task.
Future research sets high standards
Technikum III is one such "future building" and as such presented Kieback&Peter's engineers and techs with quite a challenge: It's an extension building meant to compliment two existing ones – a historic building and one built in the 1980s. The heat, ventilation and cold air supply systems of Technikum III were to be integrated into the existing systems and connected to an existing building management system (provided by a different manufacturer) via BACnet. In addition to that, a fire damper system provided by Trox was to be integrated into the building automation.

The high technical standard of the building services, the building's purpose as a lab and research institute, and interaction with preexisting systems and elements of automation resulted in high standards regarding building automation, which the Kieback&Peter team had to meet.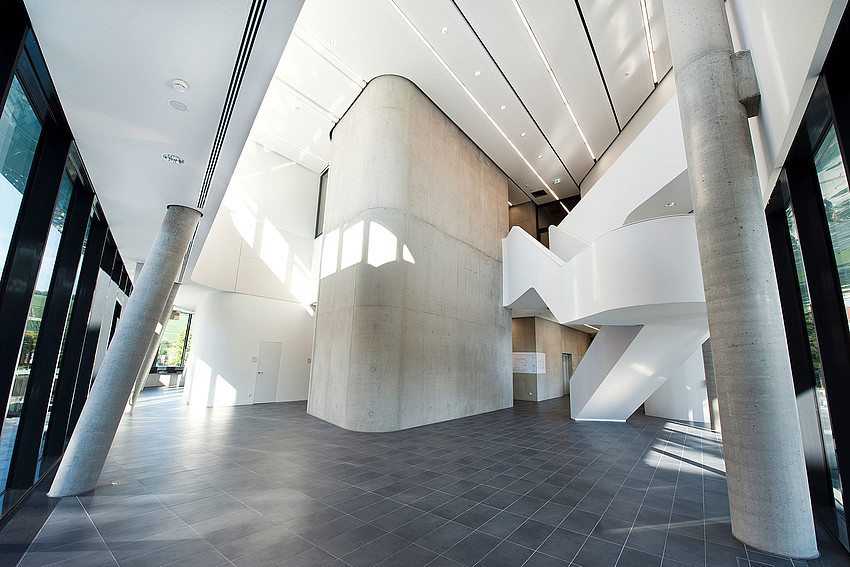 High-precision integration
The Kieback&Peter team used BACnet to integrate the new ICs into the existing building management system (BMS) provided by Trend. Given that the BMS monitors all systems across all three buildings, planning, coordinating and programming proved very complex – but still no problem for Kieback&Peter's experienced systems integrators.

In addition to the automation stations, a large number of sensors and actuators from Kieback&Peter are used across the building. They include temperature sensor types TLD3 and TVD15, as well as highly accurate type MD200Y actuators. Precise and reliable sensors and actuators are also essential for smooth interaction with the laboratory control systems: Pressure sensors in the air duct system register positive or negative pressure when laboratories require larger or smaller amounts of supply air. The integrated automation station then regulates the fan speed in the central ventilation units via corresponding actuators.

Another task was to connect roughly 100 Trox fire dampers to the automation station in the the ventilation plant IC via LON bus. In the case of a fire, the fire dampers are triggered by smoke detectors which were also installed by Kieback&Peter and are connected to the DDC via LON bus. In addition to a message to the BMS, such a triggering of the fire dampers is also displayed by LEDs directly in the IC.

The project contains a total of 1,350 physical data points. Kieback&Peter handled the project with wide-ranging expertise and high flexibility regarding the implementation of technology by different manufacturers.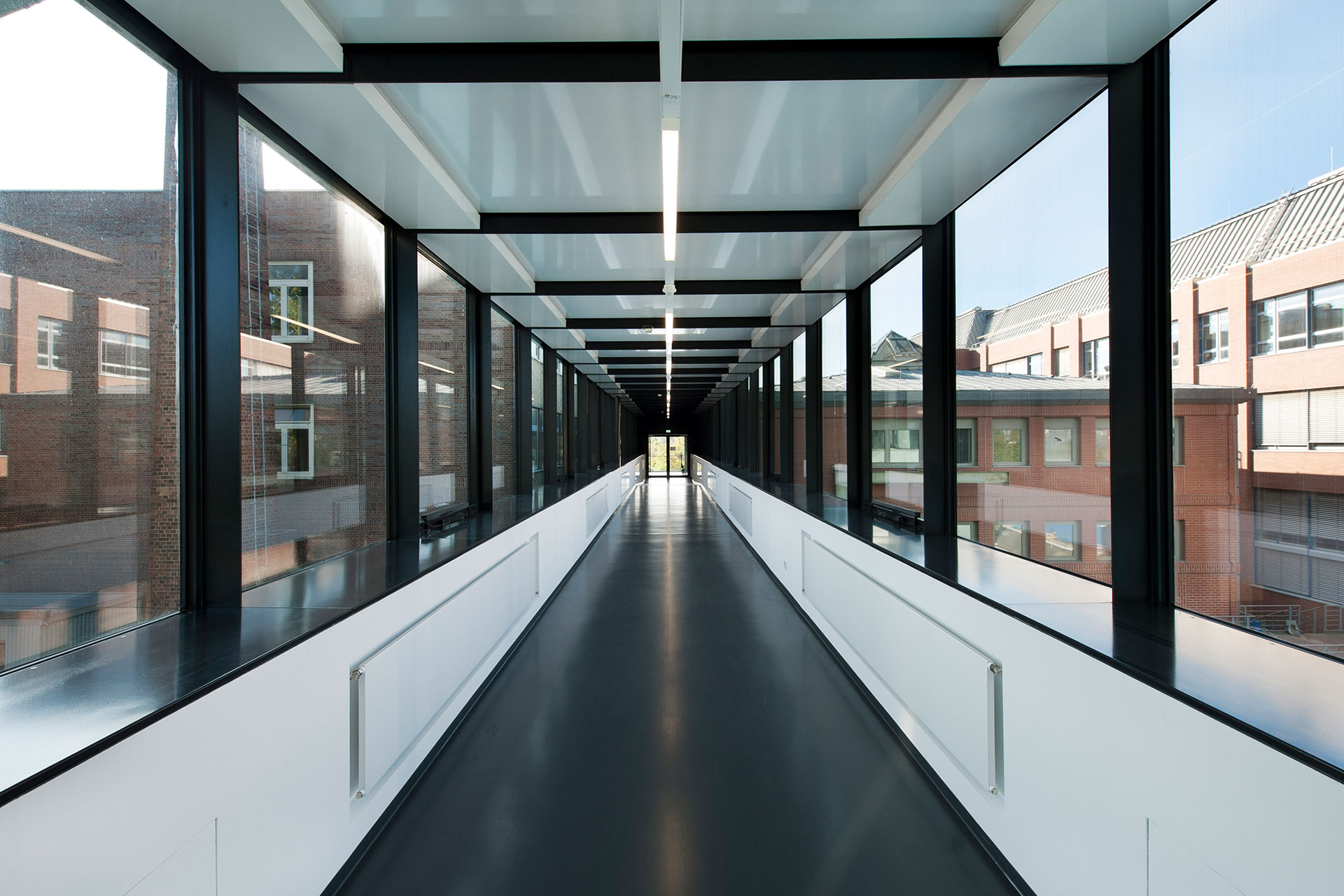 Fraunhofer ISC – A Summary of the Technology:
7 DDC4200 controllers in 7 ICs regulate air, heat and cold supply, distribution and preparation.
Integration of different manufacturers (BMS, laboratory equipment, fire dampers, etc.) via BACnet and LON
Sophisticated sensor (TLD3 and TVD15) and actuator technology (MD200Y) by Kieback&Peter