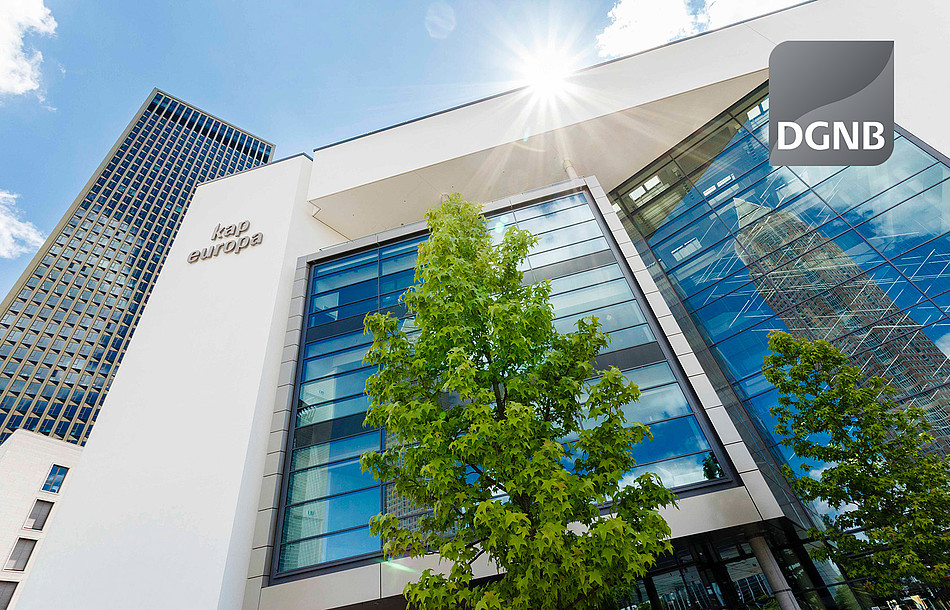 Innovative technology offering comfort and resource preservation: Kap Europa represents the outstanding implementation of a sustainable convention center concept through exemplary planning, construction, and operation. This includes, among other features, environmentally compatible construction materials as well as energy optimized TGA systems in combination with intelligent building control. Commissioned in 2014, the building located close to the Frankfurt Exhibition Center offers elegant architecture and flexible space spanning four floors — hosting congresses, conferences, and events for up to 2,400 participants. The intelligent building control system installed by Kieback&Peter provides safe and energy-efficient operation with maximum user comfort.
World's first congress center with DGNB platinum certification
For its pioneering green concept, the Kap Europa was the first congress center globally to earn the platinum certificate from the German Sustainable Building Council (DGNB). Kieback&Peter's building control system was a critical factor in the award. Planning and execution of the concept was carried out according to Messe Frankfurt's specifications by ECE Projektmanagement and Eike Becker_Architekten Berlin.
Sustainable and flexible venue providing the utmost user comfort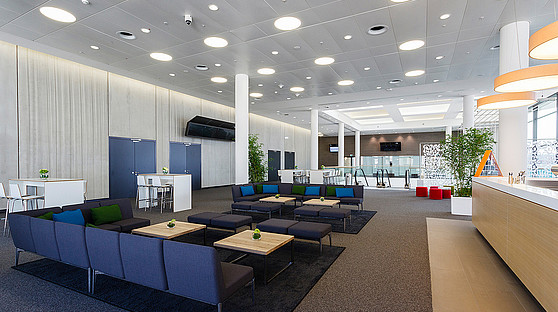 In addition to functionality, aesthetics, and comfort, sustainability is playing an increasingly important role for event organizers and exhibitors when choosing a location. This is where the DGNB-certified Kap Europa shines — featuring a 4,200-square-meter illuminated foyer, two halls hosting up to 1,000 people and 12 expandable and divisible meeting rooms. That's a total of around 7,700 square meters of event space providing variable and needs-based solutions with individual usage options.
Maximum efficiency through smart building automation courtesy of Kieback&Peter
The technical building equipment design allows for individual operation of the halls and meeting rooms. The foyer and all hall and conference areas are connected to central ventilation systems with heat recovery. Kieback&Peter's building control system provides excellent energy efficiency for the heating, ventilation, and air conditioning systems. It comprises central monitoring and control software through a virtual user interface for complete building automation. In addition, five information focal points, equipped with the DDC4000 automation station, operate in control cabinets distributed throughout the congress building. These BTL-certified, AMEV-tested BACnet building controllers communicate with the building control system and at the field level through the sensors and actuators featuring around 6,000 physical data points.
Integrated smoke extraction system
Connected to this, as an added feature, is a smoke extraction system with conventional relay technology — meeting fail-safe requirements in this sensitive area. At the same time, this maintains a high degree of flexibility in the space usage. For example, the foyer areas can be used for a wide variety of events while simultaneously serving as escape routes.
On the operational side, the integrated hardware and software solutions make a pivotal contribution to Kap Europa's success as one of the world's most sustainable congress centers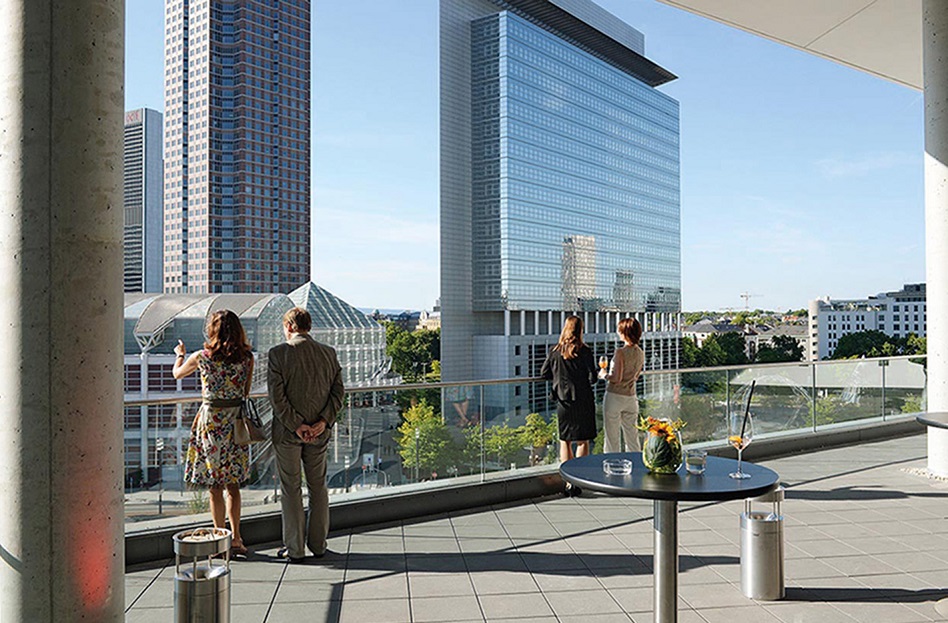 Kap Europa, Frankfurt Main – Technology at a glance
Building control system with about 6,000 physical data points and 5 information focal points
BTL-certified DDC4000 automation stations with AMEV test certificate
Smoke extraction system
Awarded the DGNB platinum certificate for sustainability