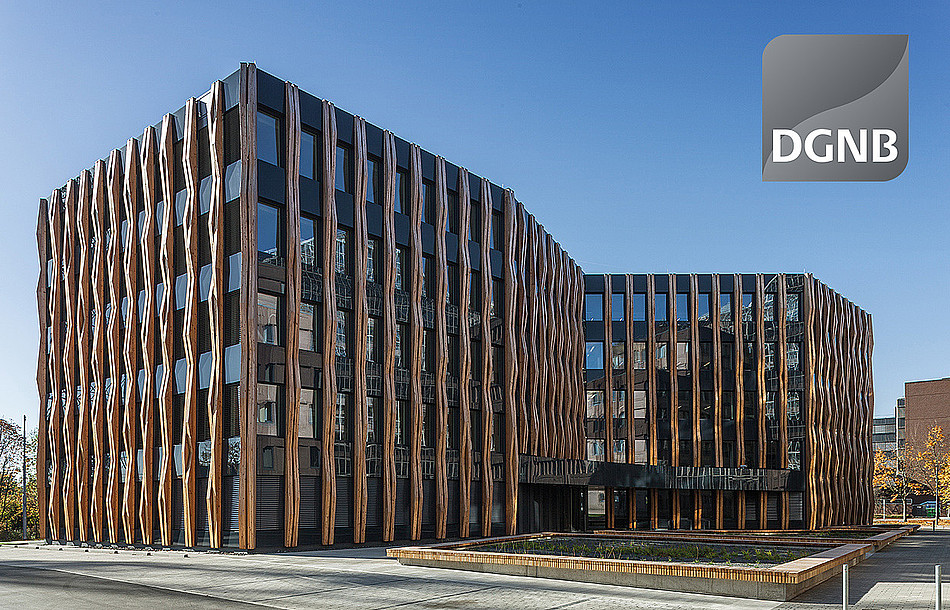 Modern sustainability in an eye-catching package: Ed. Züblin AG, one of Germany's leading construction groups, impresses with the innovative development of their Z3 office buildings in Stuttgart, combining unique architecture with optimized energy efficiency. Completed in 2012, the low-energy building designed by Vienna's MHM-Architects offers Züblin employees an exceptional working environment — equipped with a striking facade of larch wood pilaster strips along with smart building and room automation by Kieback&Peter.

Pioneering DGNB-Certified Züblin Campus
Thanks to its exceptional structural design and sustainability, the five-story cube building was awarded platinum certification by the German Sustainable Building Council (DGNB). This makes Züblin the first company in Germany to receive DGNB certification for every building at its headquarters — all fitted with energy-efficient technology from Kieback&Peter. An expansion to include a fourth sustainable office building is planned for 2022, with the aim of also achieving DGNB certification.
The energy required by the compact Z3 cube is almost entirely self-generated, for example via solar power and waste heat recovery. Hybrid ventilation and occupancy-based control of lighting, heating, cooling, and sun shading further contribute to the cube's high energy efficiency.

Comfort and energy savings through cross-trade room automation
The comprehensive building automation system from Kieback&Peter optimizes the energy efficiency of the building services equipment across all trades — centered around the building management system also provided by Kieback&Peter. Among other features, this enables powerful room automation with demand-based control of heating, ventilation, and lighting in the Z3's 127 rooms. The integrated blind control system with shading control adjusts the slat angle based on the sun's position to make optimum use of daylight. Automatic presence detection provides the desired room conditions according to need. Collectively, the system provides maximum user comfort while significantly reducing energy consumption.
Another plus: The Kieback&Peter room control units with integrated temperature sensor communicate wirelessly with the individual room controllers via the EnOcean wireless protocol. This means that every employee can view the current status of their office and the entire building through a web user interface to individually adjust their usage behavior.
Central monitoring and integration through the building management system
As a system integrator for complete building automation, Kieback&Peter connected the ventilation system, recooling plants, and chillers to the central monitoring and control software via the open communication protocol BACnet (Building Automation and Control Networks) — in addition to the seven BTL-certified DDC4200 automation stations located in the information focal points. Additional electrical data points were also integrated into the LON network, with around one hundred M-Bus meters transmitting the energy consumption of the individual media. All system data are clearly displayed through the building control system and recorded for energy optimization.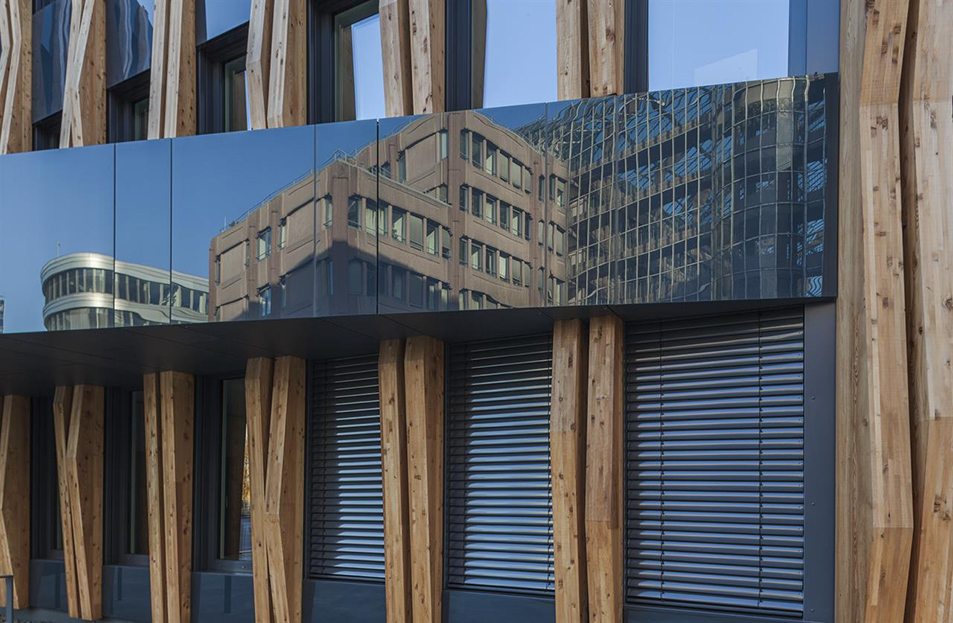 Züblin Z3 – Technology at a glance:
BTL-certified building control system
Cross-trade room automation via the Kieback&Peter building management system for heating, ventilation, lighting, and sun protection
7 BTL-certified DDC4200 automation stations
Bus and wireless communication via BACnet, LON, and EnOcean protocols
Awarded the DGNB platinum certificate for sustainability